Learn more about our club on Hen Island.
We currently have membership openings available. Please
contact us
for more information.
Please contact us to learn more.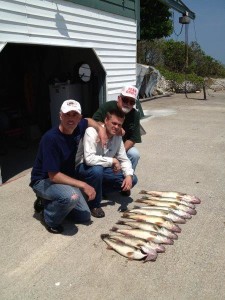 The Quinnebog Fishing Club is seven acres of magic nestled in the middle of Lake Erie's Western Basin, just five miles north of the American/Canadian line.  Being the Walleye Capital of the World, Lake Erie and Hen Island offer fishermen of all abilities the chance to pursue their favorite pastime of chasing champion Walleye and Bass. We invite you to experience the unique opportunity to stay and enjoy all that Hen Island has to offer.
Far from the Maddening Crowd
Just a forty minute boat ride from Pelee Island, the Quinnebog Fishing Club owns truly the most unique island in all of Lake Erie. Hen Island is able to boast prior visits by two famous fishermen, Presidents Grover Cleveland and William McKinley. The club was founded in 1897 by a group of Ohiomen as an opportunity to escape the hustle and bustle of everyday life, while enjoying this world class fishery. One stroll around the island's perimeter trail and the real world begins to melt away beyond the horizon.
The Dining Hall
The dining hall is situated overlooking the marina and offers breathtaking view of the western basin islands. During all club meets, our friendly staff maintain traditional breakfast, lunch and dinner hours, and also serve snacks throughout the day.  You will never depart for fishing on an empty stomach while on Hen Island.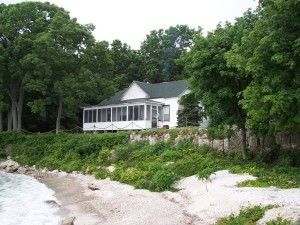 The Lodge
The lodge is truly the focal point of the Club. Located only a short walk from the dining hall and bunkhouse, it features a forty-foot screened veranda complete with rocking chairs and a view south and east of the island. This is "the" favorite spot for members to enjoy a beverage, a cigar, and swap a few more fishing stories. Inside the lodge, there is an old-fashioned handmade wooden bar that is kept well stocked. It is also home to a pool table, card tables, reclining chairs next to an oversized fireplace, and over eleven decades of Quinnebog History, memorabilia and pictures.
The Bunkhouse
The two-story bunkhouse has 18 rooms- most of them with a single bed, and a few with twin beds.  Everyone shares our community bath/shower rooms – one on each floor, which is well maintained by our housekeeper. It is a place for a good night sleep to dream of Walleye and Bass.